... a small, but very effective team of web developers and designers agreed not to join the ranks of "just wind up the tasks" workforce, but to love, enjoy and take pride in their calling.
We've seen too many projects that didn't fulfill the true needs, message or identity of the client. On the other hand, our clients had to deal with projects that didn't reflect, nor achieved visions of their larger business strategies.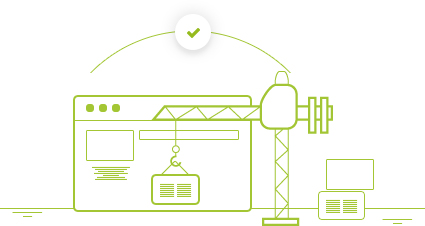 After agreeing on establishing our company in beautiful Belgrade, in 2011, our commitment was never to do business "as usual". Following a successful start, we extended this commitment to our customers' partners as well.
We Agreed

Our Main Principles
Complete Solutions

There is so much more than just having a new website or application. They need to make results. They need to differentiate. They have to inspire. We are here to listen and understand – to hear your needs and use all of our knowledge, ingenuity, and creativity to help you make your visions come true!

Knowing Solutions

Don't scratch your head about technology. That's what we are here for. Once we fathom what you want to accomplish, we shall ensure it comes to existence. Our solutions architects are experts in their fields – they are here to advise you and indicate the perfect technologies to help you achieve your goals.

Professional Approach

Here, everyone focuses their attention on what they do best. Our programmers do not design websites. Our designers will not be in charge of your marketing strategy. We assign the right professionals to each part of your project and everyone will put their nose to the grindstone for the tip-top results.

Knowing Business

Our principle is to get to know each client individually and to get familiar with its business. We want to understand what you do, how you do it and, most importantly, what is your game plan for the future. Pairing our exquisite tech solutions with your business needs and future goals is what we do best.
Our

Mission, Vision & Values
Our Vision
Our vision is to become a globally recognized brand by creativity, ingenuity, quality of delivered solutions and the highest level of customer satisfaction. We plan to achieve it by providing remarkable services and perfecting dependable solutions based on the latest technologies.
We believe in a win-win situation! Your success is our success and we will always go the extra mile to discover the solutions that provide the right results and exceed your expectations.
Our Mission
To work hard to provide you with the best, most cutting-edge solutions possible
To create a workplace where our employees can learn, grow and prosper
To make contributions that enhance the well-being of the communities where we live and work
We are completely dedicated to these values. This dedication enables us to raise the bars of customer satisfaction and service excellence.
Idea

Whether your idea is big or small, just present it to us and our consultants will see to make it real and even better, after which we'll crunch the numbers and project you the budget and time plan.

Strategy

Together we shall work on your idea, seeking to understand your business requirements, your main objective and the perks that our final solution has to provide to the end users. During production, we'll keep in close contact with you and keep everyone at the top of their game.

Design

Once all specifications of your solution are agreed, our innovative and creative design team will think beyond the obvious to produce an aesthetically engaging UI with unique design patterns that maintain extraordinary user experience.

Development

Our developers will take all the specifications and build you a smooth and stable application on the cutting-edge technology. Working by an agile approach we stay adaptable and, armed with our knowledge of all things web, we'll achieve your vision on time and within budget.

SEO

A loyal partner of design and development. Yes, content is king, but engagement is queen and, if you are not meeting your visitors' needs, it doesn't matter how optimized your website is. Google will love you only after everyone else gets to love you first.

Quality Assurance

Tweaking and testing are regular and continuous actions of our process, but as the project nears the finish line, those actions are getting in their full swing.

Final Touch

We love when there is some time left over to put our final touch on a product, fitting it with that extra glaze and sparkle.

Last Step: Release

Bring out the champagne and enjoy the happy faces. :)

Maintenance

Even after the project is finished, the job is not done. We are here to provide you with our full support for future updates, changes, and growth, and as well take care of the hosting and backup requirements, ensuring your project is running smoothly 24/7.
So sit back, relax and leave the entire thing to us!
Unlike traditional agencies, we do not have a rigid hierarchy. At our workspace creativity is table stakes for entrance. Everyone contributes, everyone has ideas, and everyone has a voice.
Working individually is a tough row to hoe. Working as a team hits the home run.